Casper's Electronics,
MADE IN THE USA
Quality Products & Services Your one-stop-shop wire harness  and connector manufacturer specializing in fast production dedicated to quality and service.

Casper's Electronics – Loveland, COLORADO – 9/15/2014 We are please to announce the added  capabilities of producing products that conform to the USCAR 21 and GMW3191 specifications.  With a substantial investment into new equipment, we can easily produce harnesses, right here in the USA, that conform to these specifications if our customers require it.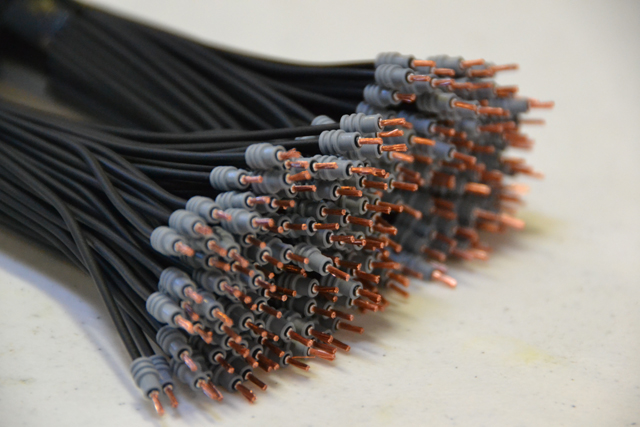 25 years of experience and working closely with our customers has helped shape Casper's into what it is today!  We pride ourselves on customer service and quality products.  Casper's has achieved several certifications and there are several more in the works.
Some of the markets served include: Alternative Energy (CNG & LPG), High Performance Automotive, Heavy Trucking, Industrial, Agricultural, Military, Rail, and many, many others! Have a product you want to bring to market? We can help by lending our experience and expertise in design. Already have a product made? Let us help streamline it! We can offer suggestions and recommendations for product usage to save cost on raw materials and/or production times!
Read more
Casper's Electronics has worked in almost every aspect of automotive wiring for over 25 years!  Small and large quantity production of engine harnesses, adapters, custom product implementation, and custom made connectors are just a few of our specialties!
Our sales, engineering, and production support personnel are available any time to help you with your project!  We have great control over production, so late stream engineering changes can be implemented quickly and efficiently.
We take pride in providing quality parts right out of our production facilities in Loveland, Colorado!  We don't outsource – we adapt quickly – to get your parts in your hands quickly!  We welcome you into our facility anytime!

Need help with wiring?  Trouble finding connectors?  Parts don't exist?  Call or email us any time! 
info@caspersmfg.com
CASPER'S ELECTRONICS, INC. Printable information brochure
Take much of the information found on our site to-go!  This printable brochure includes much of the information found on our site.